Happy-go-lucky pop by way of the eternal sunshine of Norway. This mini-album by Remington Super 60 alter-ego Nice System pays its respects to bubblegum: boy meets girl, anything but profound. The design brief took its cue from the title, gently poking fun at the romantic game.
Girl and boy are brought into focus with coloring. And then they're held apart, both by the maze of cubicles in the photo and the grid overlay.
The backwards "me" and checkers motif appears on all Remington releases. I took the liberty of substituting typefaces and making it multi-color.
Have I mentioned yet how I grew up hating barcodes? Radio Khartoum manifesto, rule #4: No barcodes. RK's first barcode is actually a detail from a strip of DNA. Romance is biology.
Track 10 gets the orange treatment, highlighting/advertising the band's love for Burt Bacharach.
US Customs officials get their due with the camouflaged "made in..." in the lower left on the CD version.
The inside of the digipak (and the labels on the vinyl) play off the DNA theme with the enlarged halftone pattern treatment of the photos, and audio peak meters.
Note that every person listed on the "performance" (i.e., right) side of the credits is gender identified with an "XX" or an "XY".
"Thanks to all our friends in pop XOYO": I must have been thinking of that song by the Passage.
That's the Bügelfrei signature (rendered as +/- sign) peeking through the teeth at the center of the tray. There should have been an opening there, but the manufacturer changed their tray spec without telling us. Romance is chemistry!
The disc is printed in white ink with drop-out artwork and a matte varnish over everything.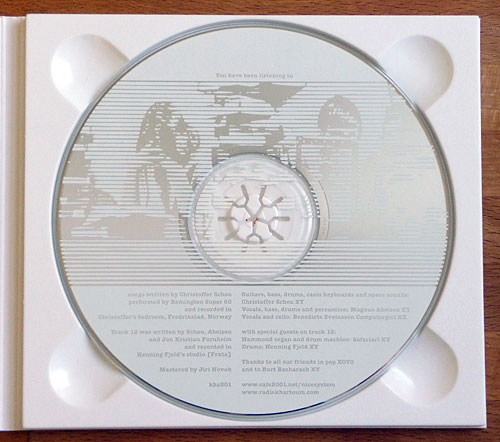 White vinyl? Suggestive of a laboratory.
Further details which are not apparent in the photo: matte laminate coating on the cover; metallic ink on the label.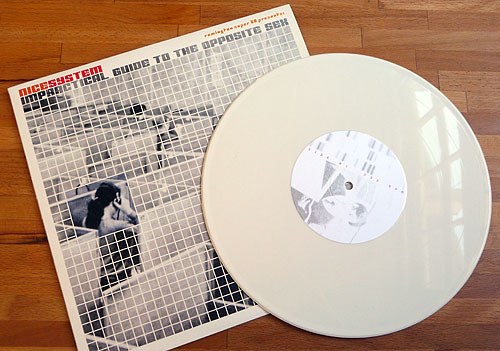 For the vinyl version, the Bügelfrei signature sneaks into the grid.